Protect the environment from e-waste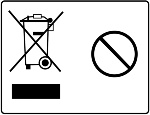 All Air Conditioners excluding centralized air conditioners plant i.e, Consumer Electrical & Electronics Waste (CEEW4) Products at its end of usable life should not be mixed with household domestic waste or any general waste. It must be stored separately and disposed of through an authorized recycler of electrical and electronic appliance waste since it is categorized under Schedule I of E-Waste Management Rules promulgated by the Government of India. As guided by these rules, this product needs to be disposed of after its useful life in a scientific and prescribed manner. As a responsible citizen of India, we request your cooperation in helping conserve the environment for future generations.
E-Waste Regulations
Blue Star is committed to implement E-Waste Management Rules 2016 notified by The Ministry of Environment,Forest & Climate Change (MoEFCC), Government of India which was further amended on March 2018.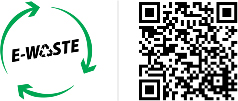 Buyback/Exchange offers on Old ACs
For Buyback or Exchange offer on your old Air Conditioner, please contact us on the number 89 7678 1177 or visit our nearest Blue Star dealer in your city. Scan the QR Code to locate your nearest Blue Star Dealer.
E-Waste disposal guidance
Blue Star Limited is committed to safely disposal of all the Air Conditioners i.e, CEEW4 (Consumer Electrical & Electronics Waste) products after their end of life.
For eco-friendly disposal of E-Waste we assist our customers to deposit their old air conditioners to our authorised sales and service dealers (SSDs) or collection centres (Warehouse).
Disclaimer
We need support from our customers for E-Waste free environment to dispose their E-Waste through our collection centers.
Never dispose or sell your discarded Air Conditioners to any unauthorized recyclers (Local Kabadiwala).
For disposal of E-Waste, kindly call our customer care 89 7678 1177 or WhatsApp 829 100 1177