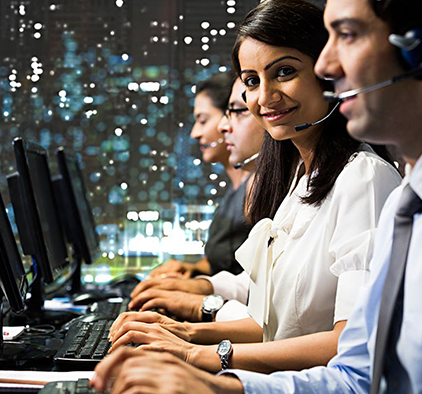 Why is it important to service your air conditioning and refrigeration system?
All air conditioning and refrigeration systems, like any other machine, depreciate with time. And if not properly maintained, they progressively lose efficiency, consume more power, and drain your profits.
Without regular maintenance, an air conditioner loses its original efficiency steadily with every passing year. It is common knowledge that these inefficiencies accelerate in the absence of adequate monitoring and maintenance, thereby causing a lot of inconvenience.
The good news, however, is that you can recover most of that lost efficiency through regular maintenance. Studies show that with regular tune-ups, a unit will maintain up to 95% of its original efficiency. This means that the cost of a periodic tune-up is recovered very quickly in savings on your monthly power bill and reduced running and repair costs.
Why Blue Star?
Blue Star, one of the largest air conditioning and commercial refrigeration companies, has been providing expert cooling solutions for over six decades. Blue Star provides you with the finest and most comprehensive range of services, to take care of your air conditioning system. With our experience and expertise, we optimise your system and ensure maximum energy efficiency, perfect air distribution and provide superior indoor air quality.
Very often, customers tend to believe that maintaining air conditioning systems needs no great expertise, and in case of a breakdown, any local AC repair technician can repair it. But while local technicians might be an easy option, they don't have the kind of extensive knowledge required on the science of cooling. They lack adequate understanding of indoor air quality, airside management and energy efficiency. Neither do they know the designs and circuits well enough for them to optimise your system periodically, nor do they have the infrastructure and resources necessary to handle your system, in case of eventualities. In fact, relying on them can only cause inconvenience, apart from potential loss of business and productivity. On the other hand, Blue Star's experts and customer focused professionals periodically check your entire system, repair and replace the necessary parts and calibrate the system for perfect air distribution and balancing.
Blue Star has the largest pool of qualified and trained air conditioning and refrigeration engineers. Company has a wide network of channel partners across the globe to meet customer requirements. Since there is a different challenge that is faced, for issues that are specific to different regions across the globe, there is a need for technical and region specific understanding on the different scope of specialized service offerings. Present in 17 countries across the Middle East, Africa, SAARC & ASEAN regions, Blue Star has put in place a dedicated team of professionals across different regions to work on challenges faced across different markets. We understand the geography and have complete knowledge of the application and customer profiles.
For information on service solutions, please contact us at:
International Headquarters:
Blue Star International FZCO
PO Box 293719, Office #520,
5th Floor, Building E-3, Dubai
Airport Freezone, Dubai,
United Arab Emirates
Email: globalexpertservice@bluestarindia.com
Phone: (971) 42306 900