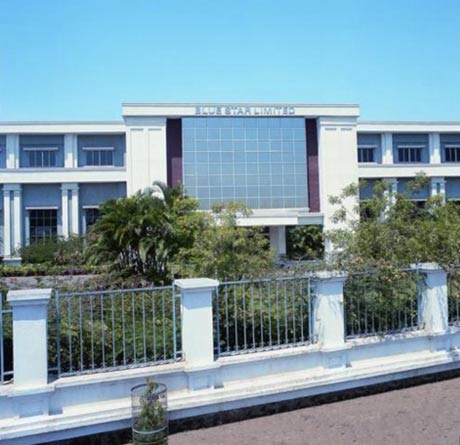 Started in:
1997
Location:
Dadra and Nagar Haveli, a Union Territory 200 km from Mumbai with its capital at Silvassa
Area:
12,000 sq m
Blue Star's Dadra plant's processes are all integrated through SAP ERP. All modern manufacturing concepts have been incorporated, notable among them being visual management of the factory, Just in Time, Kaizen, 5S, Pokayoke, SMED, Kanban, TPM, Lean Manufacturing and Six Sigma.
This unit is regarded by industry experts as one of the best manufacturing facilities in India for air conditioning products. It has been built in technical collaboration with Rheem, USA.
The factory manufactures digital VRF units, inverter VRF ACs, export market water coolers, ducted split units, ducted packaged air conditioners (ODUs as well as IDUs) and contract manufacturing products for export market, among others.
The unit's assembly line has a strong backward integration with coil shops, fabrication establishments, paint shops and foaming setups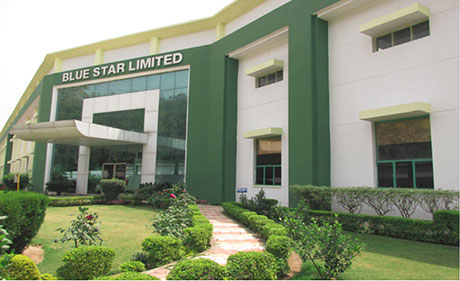 Started in:
2005
Location:
This factory is 300 km north west of North Delhi
Area:
16,000 sq m
The industrial zone of Baddi in the Solan district of Himachal Pradesh has seen a proliferation of manufacturing setups in the recent past. Blue Star has successfully capitalised on this opportunity to augment its manufacturing capabilities. This factory has been set up in the sylvan settings of Kala Amb. It is a highly productive, automated and flexible unit that manufactures outdoor units of spilt air conditioners coupled with a fin and tube heat exchangers (FTHX) coil manufacturing setup.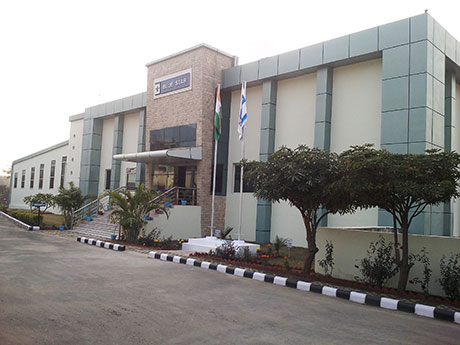 Started in:
2011
Location:
This factory is 300 km north west of North Delhi
Area:
9,800 sq m
This plant is equipped with state-of-the-art manufacturing facilities for water coolers and micro channel heat exchangers (MCHX). The factory also has a modern sheet metal fabrication unit with Amada punching and bending machines as well as a foaming plant set up for water coolers.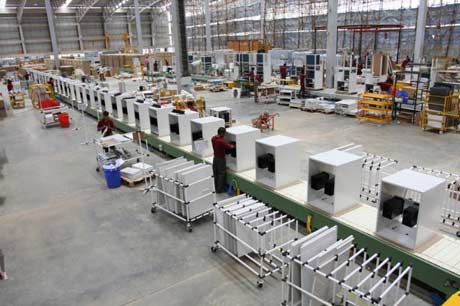 Started in:
2007
Area:
29,900 sq m
The Wada facility is one of the most contemporary plants of the company, situated 60 kms from Thane, near Mumbai. With a plot size of over 35 acres, this facility is designed to eventually be Blue Star's biggest manufacturing facility. Modern manufacturing systems are being deployed with the focus on quality systems through programmes like Lean Manufacturing, Six Sigma, TPM and Kaizen.
The factory has been certified as a Gold-Rated Green Building by the Indian Green Building Council, Hyderabad in October 2012. It has been accorded 78 points out of a total of 100 credits, the Gold Rating being awarded to a range between 71-80 points. The factors that aided the plant in achieving this laurel are optimum utilisation of daylight, naturally ventilated shop floors, an energy-efficient VRF system for cooling the office areas, substantial water savings due to water-efficient fixtures, retention of a large area with natural topography and landscaping, parking space provided with non-fossil fuelling facility, adequate facilities for the differently-abled, exterior lights with ultra-low lighting power density which reduces night sky pollution, rain water harvesting system, waste water treatment facility, eco-friendly house-keeping chemicals, among several others.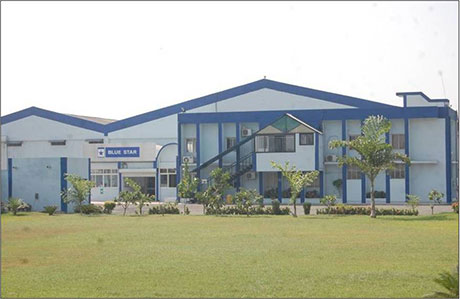 Started in:
2007
Area:
9,360 sq m
The Ahmedabad plant is located at Changodar on Ahmedabad-Rajkot Highway.
This is a state-of-the-art facility that manufactures deep freezers with a high level of automation on the assembly line, sheet metal fabrication line as well as in foaming setup.